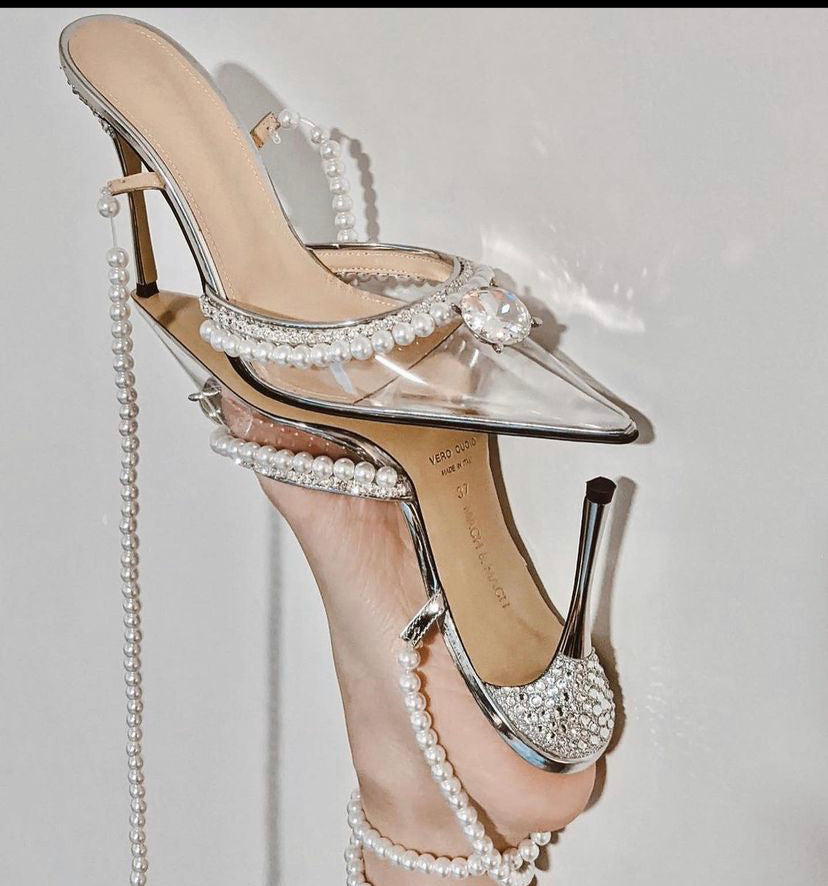 From Rihanna to Kylie Jenner and Nicki Minaj, Everyone can't get enough of these shoes,neither can we!
-Amina muaddi's begum slingback
Crafted in PVC and embellished with a sparkling crystal brooch by italian artisan.
It is no doubt why 'The Amina muaddi slingback with its signature cone stand' heel is  an household favorite.
- THE ATTICO'S DEVON HEELS
For no better words, this is a 'minimalist dream come true'.  Designed in italy by Gilda Ambrosio and Giorgia Tordini of THE ATTICO,this is no doubt one of the most sort after pieces of the brand.
Popularized by Kylie Jenner and Hailey Bieber,the triangle heeled mules quickly became a favorite and we absolutely see why.
-Bottega Veneta Wrap-tie Mesh pumps
In early May,Rihanna followed Nicki Minaj back on Instagram and later that day,they posted up pictures wearing the same shoe.
It had fans wondering...could this be hinting a collaboration and wait,what shoe is that???
Maybe it took the end of an age long beef to skyrocket this design from Daniel Lee but it is no doubt a favorite now.
-MachandMach Double bow crystal embellished sandal
Named the best selling shoe of last year,the famous design by Tbilisi based brand Mach&Mach earned its place on this list by being a piece to reckon with.
-Bottega Veneta Stretch Woven Sandals
If 'securing the bag' was a person,it's Daniel Lee. His transformation of the brand induced more desirability to products they put out including this one which's part of the intrecciato designs the brand is best known for.
-Tomford Disco heels
Kylie Jenner owns some of the best shoes in her closet so it's no wonder fans always splurge on whichever she wears and that seemed to be the case with Tomford's 70's inspired platform.
Sparkly,Disco inspired or vertiginous heels,whatever made these designs stand out also popularized them. In other words,the designers dared to be different,took a risk and it paid off. Well!👌🏿